The Company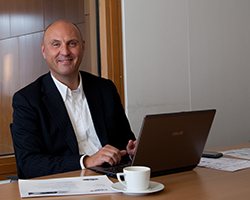 Management

Nico Hilderink

Nico Hilderinkstudied Car Technology and Business Management (B.Sc). He designed Training Sessions for distributors, dealerships and manufacturers in and outside of Europe, developed After Sales and Technische Training Courses and Workshops "Train the Trainer", was responsible for centralisation of "tailor-made" Education Programswithin the European market … and as After Sales Manager within their family-owned Multi-Brand Dealership.
Within a Chain of Bodyrepairshops working as a Projectleader, he was able to turn an unprofitable workshop around into profit within one year. In addition having the lowest rates for staff-turnover and sick leave.
Being responsible for two subsidaries, the turnover increased within three years from1.2 to 4.5 Bilion, from 12 employees to 42.
As an Operational Manager,he was responsible for many Bodyrepair shops; ROI, staff, turn over, quality and all that comes along.
Since 2007 he is Managing Partner of CRS-i BV (Netherlands) and Managing Partner since 2009 of CRS-i GmbH (Germany), active in the following fields:
Fleet-Remarketing
Secondment- and Staff Management
Management Support
His working career gave him a great international experience and a broad view within the industry. He knows how to make a Theory out of Experience. Through thorough analysis, he will define your forecast with succes in sight and a road map on how to get there.